Mother's Day is a special occasion to celebrate the love and care of mothers everywhere. If you want to show your appreciation for your mother, one of the best ways is to treat her to a special brunch or dinner. Cooking for your mother on Mother's Day is a great way to show your love and gratitude, and it's also a chance to bond over a delicious meal. Here are some amazing Mother's Day brunch and dinner recipes that will make your celebration unforgettable.
Brunch Recipes:
1. Eggs Benedict:
This classic brunch dish is a crowd-pleaser and perfect for Mother's Day. To make it, you'll need English muffins, ham, poached eggs, and hollandaise sauce. The secret to making a perfect hollandaise sauce is to whisk the ingredients over a double boiler until thick and creamy.
4 English muffins, split and toasted
8 slices of ham
4 poached eggs
1 cup hollandaise sauce
Toast the English muffins and place two slices on each of four plates.
Top each muffin with two slices of ham.
Carefully place a poached egg on top of the ham on each muffin.
Spoon hollandaise sauce over the eggs.
Serve hot and enjoy!
     2. Quiche: Quiche is a versatile dish that can be made with a variety of fillings, such as cheese, vegetables, and meat. You can make a large quiche to serve as the main dish or individual mini quiches as appetizers.
1 pre-made pie crust
6 large eggs
1 cup heavy cream
1 cup shredded cheese (cheddar, Swiss, or a blend)
1 cup chopped vegetables (such as spinach, mushrooms, or bell peppers)
1 cup chopped meat (such as ham or bacon)
Salt and pepper, to taste
Preheat the oven to 375°F.
Place the pie crust in a 9-inch pie dish.
In a large bowl, whisk together the eggs and heavy cream.
Stir in the cheese, vegetables, and meat.
Season with salt and pepper to taste.
Pour the mixture into the pie crust.
Bake for 35-40 minutes, or until the filling is set and the crust is golden brown.
Let cool for 10 minutes before slicing and serving.
     3. French Toast Casserole: This delicious and easy-to-make dish is a combination of French toast and baked custard. It's perfect for a special brunch, as it can be made the night before and baked in the morning.
1 loaf of French bread, cut into 1-inch slices
8 large eggs
2 cups of milk
1/4 cup granulated sugar
1 tsp vanilla extract
1 tsp ground cinnamon
1/4 tsp ground nutmeg
Pinch of salt
Butter or cooking spray, for greasing the dish
Maple syrup, for serving (optional)
Grease a 9x13 inch baking dish with butter or cooking spray.
Arrange the bread slices in the dish, overlapping if necessary.
In a large bowl, whisk together the eggs, milk, sugar, vanilla extract, cinnamon, nutmeg, and salt.
Pour the egg mixture over the bread, making sure all the bread is soaked.
Cover the dish with plastic wrap and refrigerate for at least 1 hour, or overnight.
Preheat the oven to 350°F.
Remove the plastic wrap and bake the casserole for 35-40 minutes, or until golden brown and set in the middle.
Serve hot with maple syrup, if desired.
Dinner Recipes:
     1. Grilled Salmon: Salmon is a healthy and flavorful fish that's perfect for dinner. You can grill the salmon or bake it in the oven, and serve it with a side of vegetables and a light sauce.
4 salmon filets
Salt and pepper, to taste
2 tbsp olive oil
Lemon wedges, for serving
Fresh herbs (such as dill or parsley), for serving (optional)
Preheat the grill to medium-high heat.
Season the salmon filets with salt and pepper on both sides.
Brush the filets with olive oil.
Place the salmon filets on the grill, skin-side down.
Grill for 5-7 minutes on each side, or until the salmon is cooked through and flaky.
Serve with lemon wedges and fresh herbs, if desired.
     2. Roasted Chicken: Roasted chicken is a classic dish that's always a hit. You can season the chicken with your favorite spices and herbs, and serve it with a side of mashed potatoes and gravy.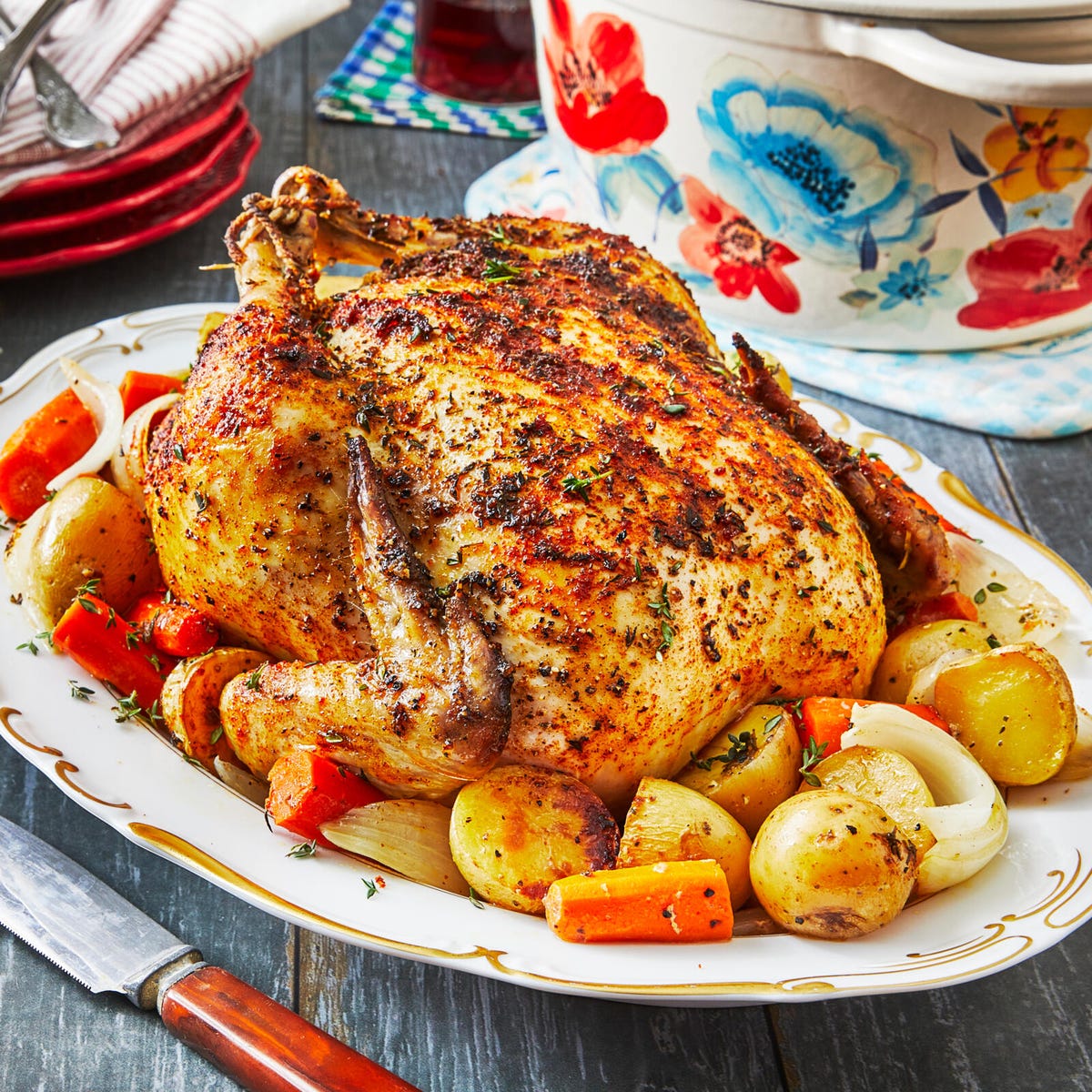 1 whole chicken (about 4 lbs)
Salt and pepper, to taste
2 tbsp olive oil
2 tbsp butter, softened
2 cloves of garlic, minced
1 tbsp dried thyme
1 tbsp dried rosemary
1 lemon, quartered
Preheat the oven to 425°F.
Rinse the chicken and pat it dry with paper towels.
Season the inside of the chicken with salt and pepper.
In a small bowl, mix together the olive oil, butter, garlic, thyme, and rosemary.
Rub the mixture all over the chicken, making sure to get some inside the cavity as well.
Place the lemon quarters inside the cavity of the chicken.
Place the chicken in a roasting pan and tie the legs together with kitchen twine.
Roast for 1 hour to 1 hour and 15 minutes, or until the internal temperature of the chicken reaches 165°F.
Let the chicken rest for 10 minutes before carving and serving.
     3. Pasta Carbonara: This creamy pasta dish is made with bacon, eggs, and parmesan cheese. It's a quick and easy dinner that's perfect for a busy weeknight, and it's sure to be a hit with your mother.
1 lb spaghetti
6 slices of bacon, chopped
4 large eggs
1 cup grated parmesan cheese
1 tsp black pepper
Cook the spaghetti in a large pot of salted boiling water according to package instructions until al dente.
Reserve 1 cup of the pasta water and drain the spaghetti.
In a large skillet, cook the bacon over medium heat until crispy.
In a large bowl, whisk together the eggs, parmesan cheese, and black pepper.
Add the cooked spaghetti to the skillet with the bacon and toss to combine.
Gradually pour in the egg mixture, tossing continuously, until the spaghetti is coated.
If the sauce is too thick, add a little of the reserved pasta water to thin it out.
Serve hot and enjoy!
In addition to a delicious meal, you can also show your love and appreciation for your mother on Mother's Day by giving her a thoughtful and personal gift. Personalized Mother's Day gifts, such as custom t-shirts, mugs, tumblers, and canvas, are a great way to make a unique and special gift for your mother. These are the best gift ideas for Mother's Day that will make her feel special and loved. You can add her favorite quotes, photos, or designs to create a one-of-a-kind item that she will cherish for years to come. Personalized gifts ideas for Mom are the perfect way to show how much you care. So why not surprise your mother with a personalized gift this year and make her day extra special? These gift ideas for Mother's Day are sure to be a hit!

Check out our website for more information and to browse our selection of personalized Mother's Day gifts: https://customizeaf.com/collections/gift-for-mom